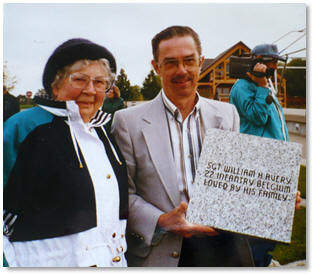 William John Avery, and William H Avery's sister, Ellen Louisa (Avery) Wintersteen, took part in the dedication of a Legacy Stone at The High Ground, the WWII Memorial, in Neillsville, WI in 1998.

My Father, William Henry Avery
By William John Avery
"I never knew my father. As my life was barely starting, his life, like so many other men and women, ended because of man's inhumanity to his fellow man.
I have often wondered what my life would have been like, had he not been taken at so young an age. Would I be blessed with such a wonderful family, four great children and my lovely wife? Would I be successful or unsuccessful? Would he be proud of me as his son?
These are questions that cannot be answered, but because of his sacrifice and the sacrifice of this country's young men and women, these opportunities have been afforded me.
This wonderful place of remembrance to the honor and memory of this nation's prime manhood and womanhood is personally a connection to my father.
Although he rests in Belgium, I can now commune with his spirit, feel his presence; pay my honor to what he and so many others did to keep America free.
This place has bridged a gap between a cemetery in Belgium, a sometime I hope to visit place, to a site that will be hallowed to me, because I know that my father's spirit will meet and welcome me here, whenever I choose to or need to come."

The War Memorial in Neillsville, WI